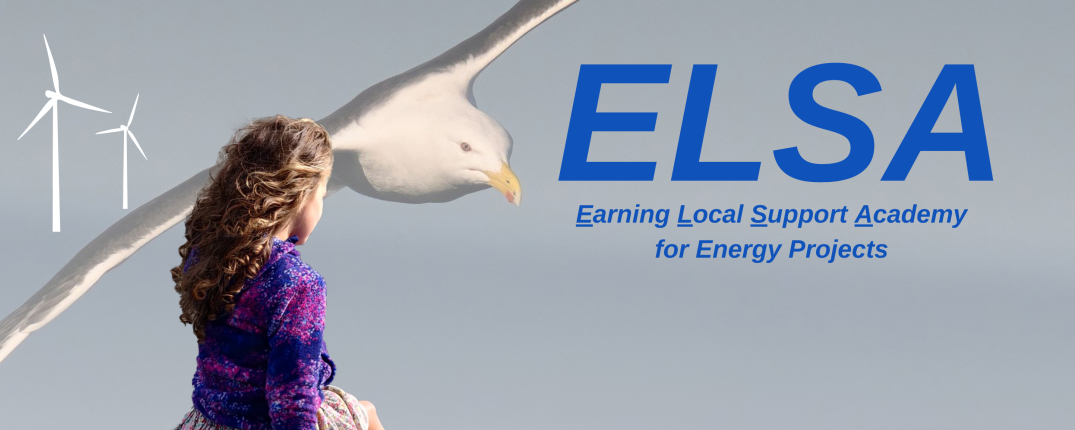 ELSA is the Earning Local Support Academy, a project by AstonECO Management.
The Pain Point: the gap between developers and host communities needs to be bridged
The transition towards renewable energy is a pressing agenda globally and nationally, and Ireland stands at a pivotal juncture in its journey towards energy security and decarbonization. Despite the positive strides, communities at the grassroots level often find themselves at odds with developers, feeling that their concerns and aspirations are being sidelined. The ELSA project is working to address this (see 'The need for ELSA').
As we anticipate a push to increase the concentration of renewable energy infrastructure such as onshore and offshore wind farm expansions, solar projects, battery and related infrastructure, the necessity for harmonious developer-community relations is more pertinent than ever. 
For some time now, many host communities feel that project developers have disregarded local needs and apprehensions, which is leading to resistance, confrontation and subsequently to missed opportunities on both sides. More often than not, communities experience the project design approach as not balanced and leaning towards the developer's needs in a way that undermines local social cohesion and sustainable development. This creates obstacles in the path of a sustainable energy transition again and again. 
While our climate and energy security targets are clear, roadblocks ahead are also becoming clear. It's time to steer away from counterproductive confrontational project development approaches, and embrace a collaborative co-design process where both the developer and the host community perceive the transition process as fair and mutually beneficial, a Just Transition for all stakeholders.  
The question of designing these projects to foster long-term well-being of communities looms large. It's a delicate balance between progress and preservation, development and empathy.
The ELSA initiative: A beacon of hope
In Ireland, we're on a mission to lessen our dependence on imported energy and reduce our carbon footprint. But, research to date has shown that this will be realised only through a concerted effort, in a way that makes sense for all those impacted in the country, and not just 'at all costs'. This is where the exciting initiative resulting from our research and development — the Earning Local Support Academy (ELSA) — comes into play.
What is ELSA all about?
ELSA is all about understanding first, followed by synergising and collaborating. We're in the midst of sculpting this resource, listening keenly to everyone who has a stake in the energy transition. Please reach out to us if you are interested in learning more. We are dissecting the merits of different project approaches and understanding their impact on host communities. Principles, experience and approaches from multiple related industries are being researched, adapted and demonstrated to enable all involved to usher in projects that are beneficial for all.
Here's what we're building at ELSA:
A hub for learning and sharing

: We're bringing together community members, developers, policymakers, and more to create a powerhouse of knowledge and experience.

A problem-solving forum

: ELSA will house a dynamic space where individuals can come together to find common ground and design projects that everyone approves of.

A repository of answers

: Got questions? ELSA will maintain a verified list of answers to the toughest questions revolving around project development, community involvement and the Just Transition.

Training and mentoring

: Be it through bite-sized training videos, clear guidebooks, or live events, ELSA will be a treasure trove of resources to help you learn and grow.
The heart of ELSA:
At its core, ELSA fosters a spirit of us being in this together, where members learn to understand each other's concerns, aspirations, and pivotal questions. It builds the ability to undertake constructive dialogue to co-create projects with mutual benefits; and where no-one or no community is left worse off.
Join hands with ELSA:
By joining forces with ELSA, you become a part of a vibrant community working towards an energy transition that is not just successful on paper but is also welcomed by the host communities, while meeting the national energy transition goals.
We invite you to be a part of this dynamic initiative, where we are not just shaping projects, but building a future that is greener, more inclusive, and sustainable, one step at a time. Let's build a future where projects don't just see the green light at the board meetings but win hearts in the local communities, making Ireland a leader in the energy transition.
The Vision: Towards a cohesive and prosperous future
We envisage a future where ELSA translates into a trusted space where developers, communities and authorities converge to share insights to carve a roadmap for energy projects that stand on the pillars not only of environmental compatibility and financial viability, but also genuine local support.
By fostering such an ecosystem, we aim to manifest a scenario where:
Ireland

efficiently meets its ambitious renewable energy targets, fostering energy self-sufficiency and economic stabilisation,

Communities

see their concerns being addressed with project designs that envisage a win-win situation for all, and

Developers

earn a reputation for completing locally supported projects within the stipulated time and budget, ensuring success in their endeavours.
The Ripple Effect: Changing lives and perceptions
Our research anticipates a long-term effect where the fear associated with new projects in proximity is replaced with a sense of ownership and pride, stemming from honest and timely community engagement. Through ELSA, we foresee more people in Ireland standing united, fostering projects with positive reverberations for all, being a true testimony to the power of collaboration in accelerating our journey towards national energy security and decarbonisation.
Through embracing this pivotal opportunity, we steer towards a future where every renewable energy project becomes a benchmark of excellence, grounded in trust, mutual respect, and a shared vision for achieving a Just Transition to sustainable energy security.
Please join our email list to receive regular updates. And send us a message to be involved at whatever level works for you - to be kept informed, to be consulted, to be involved in shaping ELSA.
 
About ELSA
This work is being:
led by AstonECO, 

peer reviewed by the University of Galway, and

supported with financial contribution from the Government of Ireland through the Sustainable Energy Authority of Ireland under the SEAI National Energy Research, Development & Demonstration Funding Programme 2022, Grant number 22/RDD/874